Painting and photography are truly acts of discovery. I love the experience of observing the image as it emerges on the canvas or in the photographic process. Often I feel this unfolding as a part of my spiritual practice—a meditation.
Curious by nature, I love to explore and inhabit the intimacy of people and places in a variety of ways. Behind the camera I am moved to see how a person is gradually revealed or how light changes a space to become a vital part of the experience itself. And the creative process is all playful—a spontaneous and intimate conversation with the subject.
As an artist, I am also excited by the dialogue between light, form, and color. Even in the shadows, a wonderfully rich, vibrant dance of color often dwells. In contrast, the pure, clean feeling of black and white can sometimes create a welcome relief in a color-saturated world.
After formal training with photography and film, I spent the next twenty years in New York City working on print, commercials, and films. In 1996 I became so inspired by the Picasso exhibit at the Museum of Modern Art that I immersed myself in painting, primarily exploring portraiture and the figure ever since.
I consider myself blessed that many of my paintings and photographs have become a part of private collections throughout the United States and Europe.
At the moment, I continue to engage in the creative process in Big Sur, Calif., where my husband Steven Harper and our two boys round out my world.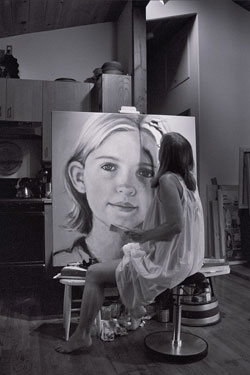 Pricing for photographs and paintings are available upon request. Please contact me for more details regarding fine art photography and painting commissions.